Investment considerations
Be part
of revolution
We are convinced that Aesyra solution has a very large potential because it addresses an unmet medical need, it can positively impact the quality of life of the patients and potentially prevent other sleep disorders. We are delighted of our fund's second investment in Aesyra that fits perfectly into VitaTech's strategy to invest in companies positioned at the convergence of Healthcare and Technology.
Paolo Orsatti
Director VitaTech
AesyBite™ perfectly fits in this existing market as it addresses the main pains (ability to monitor and relieve the condition) without modifying the customer behavior (bite for bruxism prescribed by dentists to their patients).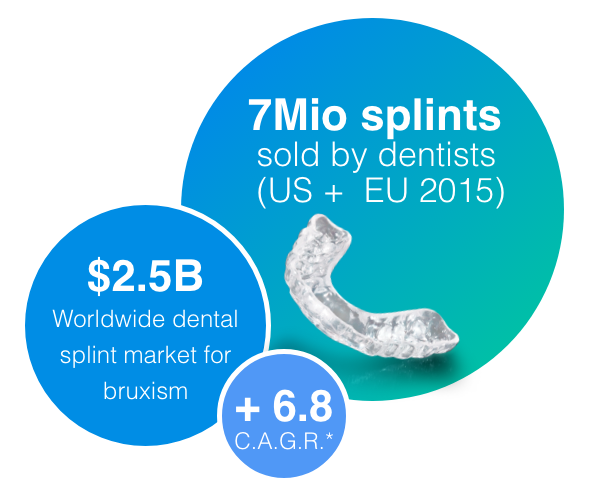 *Compound Annual Growth Rate

Be an investor
The AesyBite platform is ready to integrate many sensor technologies and address needs in different markets.
Do you want to know more about our product pipeline?
Contact us for more information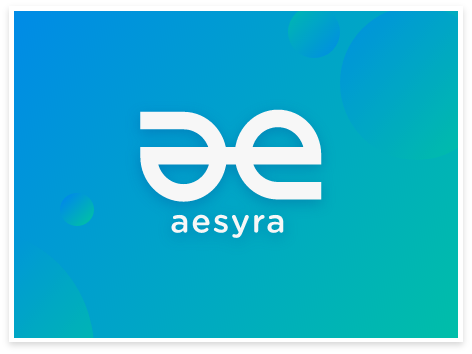 Aesyra announces closing of first financing round
Aesyra has closed its first financing round with the VitaTech investment fund and welcomes Dr. Paolo Orsatti in its Board of Directors. With this capital increase Aesyra will accelerate the development of AesyBite, a novel dental product that monitors and actively reduces bruxism.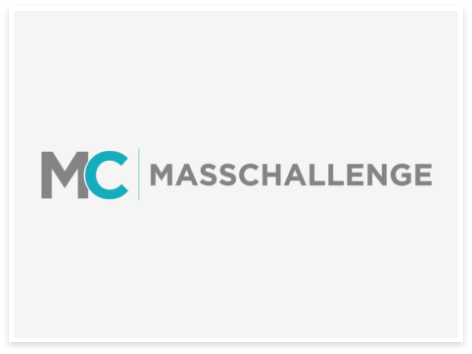 Achievements - May 2018
Aesyra selected for the MassChallenge Switzerland 2018 Accelerator
Aesyra is one of the high-impact startups selected to participate in MassChallenge Switzerland's 2018 accelerator program! A great opportunity to meet investors, exchange ideas with other amazing projects and accelerate our venture!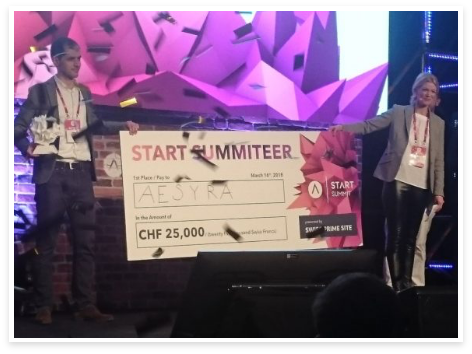 Achievements - March 2018
And the Start Summiteer of 2018 is… Aesyra!
Aesyra won the pitch battle of Start Summit 2018 in St. Gallen and was awarded the 25'000 CHF prize ! START Summit is Europe's leading student-run conference for entrepreneurship and technology gathering more than 2000 participants with the aim of connecting relevant stakeholders. We thank the organizers for running this great event!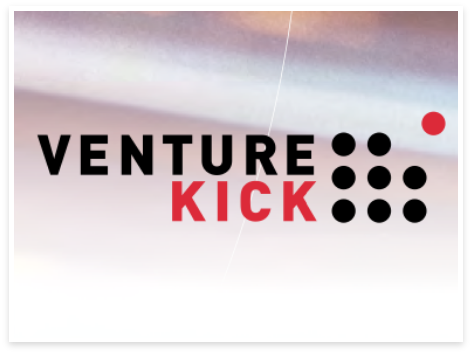 A welcome Kick!
The Aesyra team is among the winners of the first stage of Venture Kick, which supports the startup with a 10'000 CHF award as well as an hands-on stage at the kickers camps.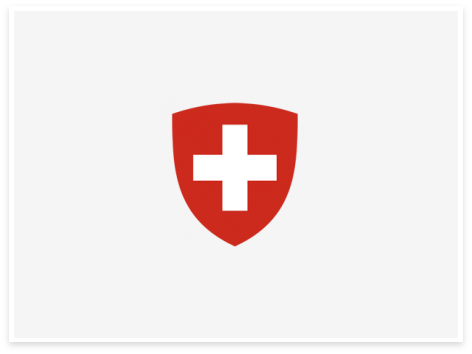 Achievements - May 2017
Aesyra supported by CTI
The Aesyra team has been officially accepted in the third phase of the CTI Start-up program, which provides professional coaching to new businesses!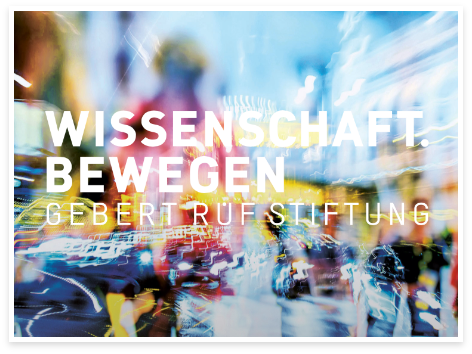 Achievements - March 2016
Aesyra gets Gebert Rüf Stiftung funding
Aesyra receives a 300'000 CHF funding from Gebert Rüf Stiftung, as part of its program to support entrepreneurial projects in science.